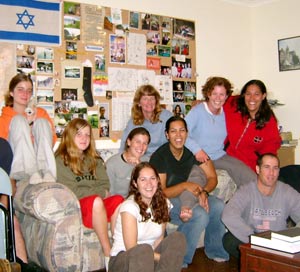 Shalom to you!
My name is Yaron. I am the founder and overseer of Chiburim – international hosting network for Israeli travellers.
I travelled outside Israel with Israeli friends in Europe and the Far East at different periods through the late 1980's and into the early 1990's, and during the latter time I started to write down the vision of what would become Chiburim.
My aim was to offer a practical vehicle which would be a catalyst to encourage people around the world to demonstrate support for Israel, and one which would serve to strengthen the international body of genuine friends of Israel and Israelis. In 1998, to achieve this, I began finding Christian and Messianic believers who were willing to host Israelis, many of whom were travelling the world on a much needed time out after completing their Israeli compulsory military service.
In the Galilee, Israel, in 1999 we built a website offering Israelis the opportunity to be hosted in Scotland and this was used the same year by Israelis travelling in the UK and so Chiburim commenced. To date Chiburim is available on six continents, in twenty countries and continues to grow.
Chiburim is continually being developed to give believers around the world a meaningful way to demonstrate their friendship, love and support for Israel and the Israeli Jewish people by hosting Israeli world travellers.
To read more about why Chiburim is unique click here
Our Growing International Network